Course details
【To a wedding party!】 Reservations provided with various services ♪ All-you-can-drink 3 hours + cuisine 10 items 5800 yen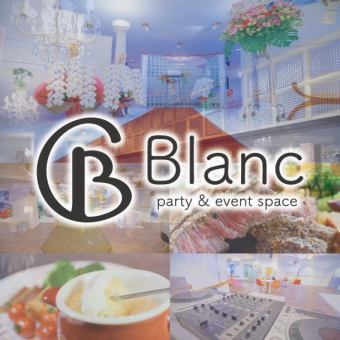 All-you-can-drink available

All-you-can-drink for 2 hours (15 minutes before the last order)
Available days for reservation

Monday - Sunday - Public holidays - Holidays
Wedding party full of degrees of freedom, easy and flexible because it is a charter specialty shop ♪ Dress rental service, substitute creation of invitations · welcome board etc, pre-shoot shooting, red carpet production, wedding special hosts etc We are preparing plans to do.
Course menu
● About cooking
All-you-can-drink for 3 hours + 10 cuisines (9 items + 1 dessert) prepared for 5,800 yen course.
We propose a dish plan according to customer's request.
(You can choose one from Italian, Chinese and Asian cuisine)
Please contact the store for details.
"Introducing enhancement service of Blanc"
● Dress rental service
We are preparing various kinds of dresses such as wedding dress · color dress ♪
Warm welcome is also welcome! (Rental fee uniform wearing 5000 yen)
● Designer's plan
We propose only one original design in the world.
(Invitation card / Seating chart / Various movies / Welcome board / Pre-taken shooting / Album)
● Free use of all equipment charges!
[Equipment that can be used]
Microphone / projector / snow machine / laser beam / moving light / bubble machine
【Acoustic equipment】
Simple PA / CDJ ​​/ keyboard / drum etc.
【Interior decoration】
Mirror ball / red carpet / bar counter / setting stage
Others, arrangements of flash mobs and wedding specialists can also be arranged!
Please feel free to contact us.
All-you-can-drink menu
·beer
· Flavor refreshing Nishite
·Cocktail
· Cassis Orange / Cassis Soda / Cassis Grapefruit / Cassis Oolong / Franboise Orange / Flambooise Oolong / Franboise Soda / Flambooise Milk / Lychee Orange / Lychee Tonic / Fazy Neeble / Peach Oolong / Glass Forest / Malibu Milk / Kalua Milk / Matcha Kalua Milk
·Cocktail
· Vodka Tonic / Bulldog / Screwdriver / Gin Tonic / Jinbuck / Jin Ricky / Jin Lime / Tequila Tonic / Tequila Back / Tequila Sunrise / Mexican Screw / Lamb Hi / Rum Tonic / Rum Coke / Lamb Back / Mojito
·whisky
· Horn Angle / Ginger High Ball
· Jim beam
· Beam Soda / Beam Cola / Beam Mojito
·wine
· Glass red / glass white
·Soft drink
· Coke / soda / tonic soda / ginger ale / orange juice / grapefruit juice / litchi juice / pineapple juice / tomato juice / green tea / oolong tea
2018/09/28 update